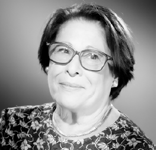 I was born June 9, 1946, in Fontainebleau, and I am married with two children, Geoffroy and Thomas.
After graduating from High School and studying at the higher institution of management of Bégué I founded an accounting firm. I have been a registered accountant since March 6, 1973.
In 1978, I decided to get involved with the economic and social bodies managed by the Medef and the Association of Women Entrepreneurs (Femmes Chefs d'Entreprises – FCE). The Medef represents and defends the interests of regional companies and unions. I have been a member of the board ever since and President of the Economic Intelligence Commission since 2011.
In 1998, I was elected as President of The Femmes Chefs d'Enterprises Association (FCEA) and I served for a total of 6 years. The FCEA was created in 1945 and its mission is to train and promote women to take on responsibilities in economic and social bodies.
In 2005, I was co-opted to the French Council of Women's board, and was elected as President in 2012. This organization is a federation of feminist associations that includes about 40 associations.
In 2015, I was elected as a board member of the International Council of Women (ICW-CIF). I was elected President during the 2022 General Assembly in Avignon.
Since 1981, my other engagements with the Medef have allowed me to get to know the institutional functioning of France and the economic fabric that private companies represent.
Decorations: Knight of the Legion of Honor, Officer of the National Order of Merit.