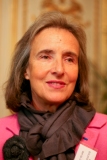 Marketing department of ELLE magazine, co-director of a headhunting firm specializing in high-level women, Director of Economic Information and Communication at the national grouping of 182 Chambers of Commerce and Industry, founder and President of a consulting firm "CBG Conseil".
At the same time, she has been involved in the associative life for almost 50 years.
Today, retired, I am vice-president of the CNFF, elected "Nutrition" advisor to the ICW, associate member of "Avenirs de Femmes" of the ANA Security-Justice
I am a member of about ten Associations and support them financially, always focused on the fight for the respect of women's rights, equality between men and women and against violence, abuse against children !  To eradicate this unbearable continuum !! 
My objective is to be"choose and not to suffer".
About my mission in the ICW,  is to share with all the countries represented in the ICW a state of the nutrition in the world and the search for solutions / recommendations that can improve world hunger and the diseases generated.
National decorations  received  :  Knight in the Order of Merit and Knight of the Legion of Honor, Medal of the French Family  (In France)
Plan of Action 2022-2025 for Nutrition
– To promote the importance of food security.
– To educate and promote the prevention of food wastage.
– To network with other NCWs and to share their successful experiences.
– To promote a healthy lifestyle and prevent non communicable diseases (NCDs) through better
access to nutritious food and regular physical activity.
– To provide comprehensive evidence-based information and education about nutrition through the
communication channels available.
– To create sound policy frameworks, at regional and national levels, to address the nutritional needs
of adolescent girls, pregnant and lactating women, and older women based on the principles of
Sustainable Development Goal no. 2.