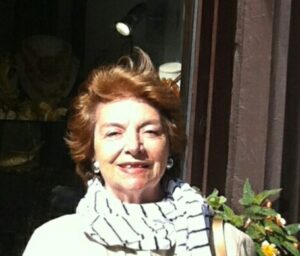 During her career she was accredited to FERPI (Italian Federation Public Relations)  and to the Order of Journalist – Special list

Languages: Italian, English and French

Curriculum Vitae
Free lance Public relations consultant since 1970
Area of expertise : Food, Health, Culture and Sports
Qualified in copy-writing, she wrote:
Business plan , Press release,  Editorials and advertorials, Brochures,
Newslettters

Editor of two house organs : "Galbani News " and
" Item News " , she also signed articles for 12 women magazines

Radio and TV
She collaborated with
– Globo Network in the telecast "Shaker" (1988-89),
– NovaRadio A in "Citizens and consumers" broadcasting (1994-95),
– BBC Radio (London), guest in the broadcasting "Afternoon shift" (1996).

From 1986 to 1993 she was appointed as Press Office Responsible at the
"SRP & Co."   p.r. agency specialized in business conferences on
nutritional research.
Her specific task was to select and contact  foreign speakers ,translate
their speeches, and then proceed to the composition of "abstracts=
From 1996 to 2005 she was coordinator of training courses and teacher in
communication for Endasform on behalf of the Ministry of Labor and
 the ESF European Social Fund (ESF-EU)
She joined C.N.D.I. Consiglio Nazionale Donne Italiane on 2001.
Since then she acts as Foreign Secretary
Plan of Action 2022-2025 for Mass Media
– Appropriate use of Mass Media to promote gender equality and in the prevention of violence,
pornography and human trafficking and protection for women and girls.
– Responsible reporting of violence against all women and girls.
– Promoting good well-being including health issues, recreation and body image.
– The sustained development of good relations with local, national and international media.
– Balanced reporting of men and women e.g., Sports role models.