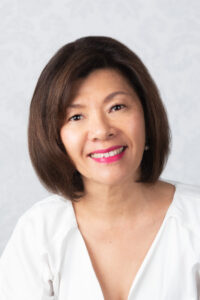 Chiou See Anderson is Business graduate of the Queensland University of Technology (QUT), a Fellow Certified Practising Accountant (FCPA), a Graduate of the Australian Institute of Company Directors (AICD) Programme twice (2001 and 2016) and has a Master of Business Administration from Deakin University (2003). In 2006, she was awarded a PhD scholarship at Bond University but left in 2009 to commence construction of Elements.
Chiou See acquired John Paul College's disused football fields in 2003 and founded Elements Retirement Village @ Springwood. It took a total of 15 years to design and build her dream retirement community consisting of 123 homes. In 2018, she met the Founders of Conpago, a QUT tech innovation and was appointed Chairperson in 2019. In 2022, Chiou See acquired a small Brisbane retirement village in Carindale from the Vacenti Group.
Also in 2019 Chiou See was elected President of the National Council of Women of Queensland. Her 4th one-year term concludes later this year.
In 2021, Chiou See was elected President of the National Council of Women of Australia for a three year term.
In May 2022, she was elected as Assistant Treasurer and Chair of Public Relations for the International Council of Women. Chiou See is the only person in Australia with the Women Councils to ever hold simultaneous offices across State, National and International.
In September 2022, she was one of 13 eminent women from around Australia to be appointed by the Prime Minister Cabinet to the Women Economic Equality Taskforce. This taskforce was established to provide independent advice to the Australian Government to support the advancement of women's economic equality and achieve gender equality as committed to in the Women's Budget Statement October 2022.
Chiou See and Brendan have a blended family of 6 children and one grandchild.